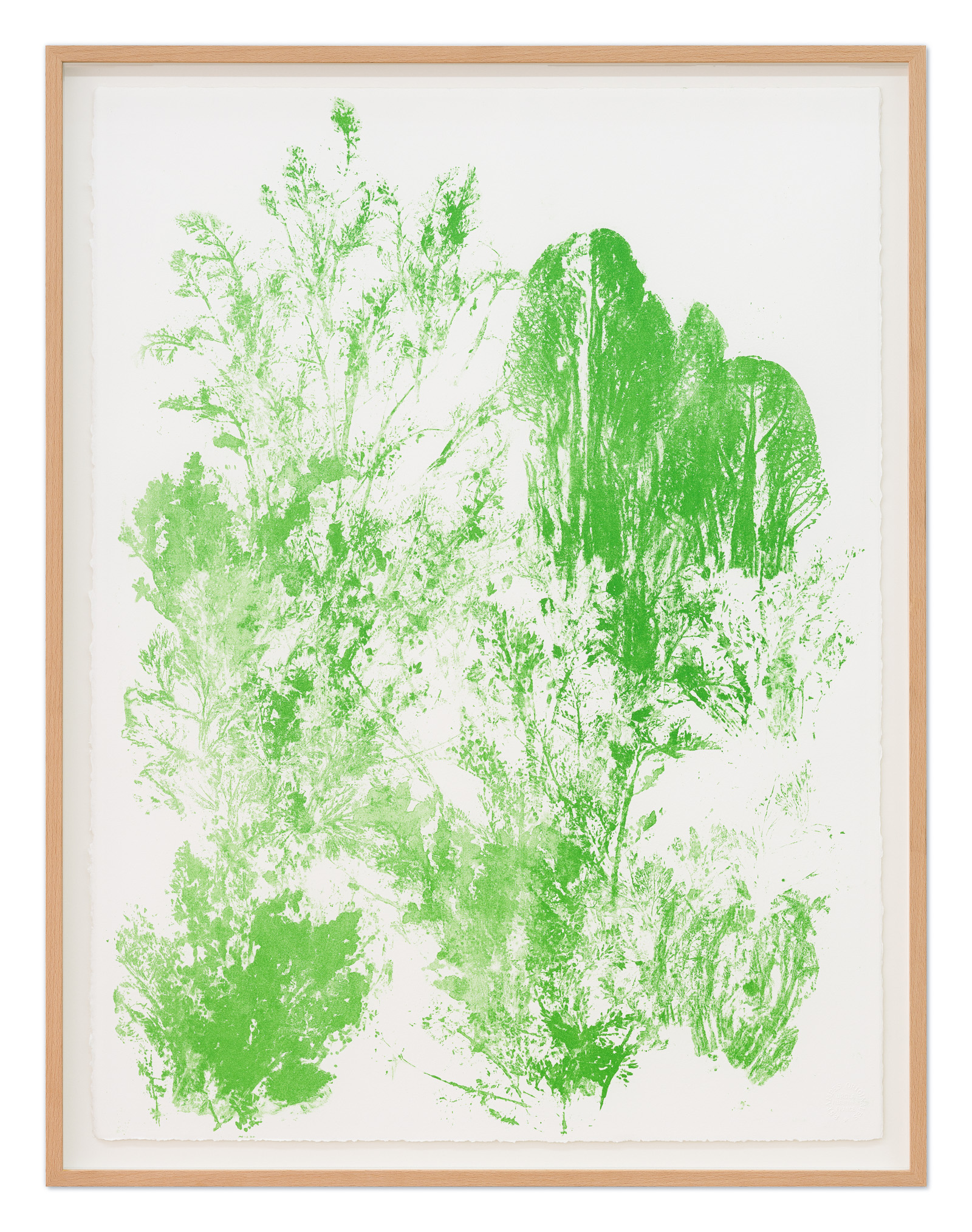 JENNIFER CAUBET | Négociations transversales
Hors les murs
7 October 2023 - 16 December 2023
Address : URDLA 207, rue Francis-de-Pressensé 69100 Villeurbanne
How does Jennifer Caubet use the traditional technique of lithography, given that her visual practice is based on the use of space? For the artist, the lithographic tool becomes the instigator of research and a method of image-making. Beyond simply discovering the medium, for Jennifer Caubet, space engineer, rigor and precision are combined with a 19th-century tool. At the URDLA workshops, she envisages a meeting between technological installations and lithographs, i.e. the printing of drawings previously made on limestone.
She goes further, experimenting with the interplay of impressions and transfers. Pressed chard and lettuce become imprints on the stone, providing the image, the drawing. This confrontation imposes a radical change of reference points by restoring objects in volume on a flat surface, in this case paper. But this is not an evocation of the trace. Lithography is not a simple tool, but a space for confronting the axes of the printed image and its testimony.
Support and uplift in seemingly opposite directions allow Jennifer Caubet to pursue a fictional and political approach. Since 2009, with the deployment of her installation E.A.T (Espace d'Autonomie Temporaire), the artist has pursued her reading of Hakim Bey, who, in her words, "set out to define alternative spaces that could be born, rise and disappear". The result in Jennifer Caubet's work is the setting in motion of "zones outside time" with no desire to exist in their own right. This is why the work presented here is not simply about the use of a medium, but about exploring this creative space.
URDLA invites you to discover Jennifer Caubet's Négociations transversales from October 7 to December 16, 2023, with an opening reception on Saturday, October 7 from 2 pm to 6 pm.
Vernissage : 07/10/2023 4:00 pm
Exhibition's artists >