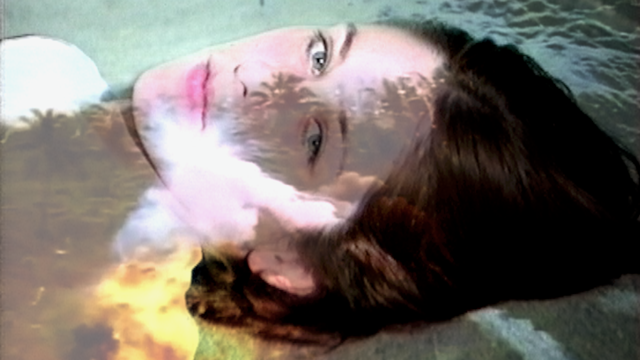 ANGE LECCIA | De Guerre et de Mode
Hors les murs
2 July 2023 - 29 October 2023
Address : casa conti - ange leccia 62 Saliceto - 20232 Oletta, Corse
Ange Leccia had not presented his work at Casa Conti since the venue opened. As an extension to his first monograph at the FRAC in Corti, Je veux ce que je veux, the artist presents here a set of five recent videos that confront fragility with horror, like love with violence.
In a ghostly fashion, he allows the female presence to hover over all the pieces, revealing an unsettling view of our contemporary world. In Audrey, a game of transparency combines the face of an adolescent girl with an aerial traveling shot of bombs being dropped, setting the landscape ablaze. Like a nightmare from which we can't wake up, the images come back in a loop, appearing as heady as Perez's soaring music. This dialectical confrontation is in fact an extract from Girls, Ghosts and War: in this case, superimposed images add a military presence in Bashar al-Assad's dictatorial Syria at the turn of the millennium, or the burial of the leaders of the Baader Gang in the Federal Republic of Germany in 1977. The contexts may differ, but the same obsession remains. That's because images are like fields of force that interpenetrate each other and survive. Where media news confronts us with a present trapped in constant immediacy, art can appropriate this continuous flow and give it a sensory depth.
The rest of the exhibition takes on a Baudelairian quality, with sophisticated fashion figures emerging from the calm of the sea and sky. As projection surfaces, they can be seen as contemporary allegories with no codified meaning. The symbolic charge is lightened, as if awaiting a new potentiality. We are reminded of Stendhal's observation that beauty is always a promise of happiness. Obstructed, uncertain or even diminished today, the grace that punctuates these suspended moments is in itself a resistance to destruction and geopolitical tensions that are more terrible than ever.
This is not a simple escape, which would add to the cruelty, but rather an ethic that seeks to cultivate the art of detachment and vigilance, superficiality and alertness. Such ambivalence is a way of rediscovering the pulse of the world through an observation that is not entirely disenchanted.
Image : Ange Leccia, Audrey, 2018, Mute video, approx.12 min.
Press release (PDF)
Vernissage : 02/07/2023 4:00 pm
Exhibition's artists >