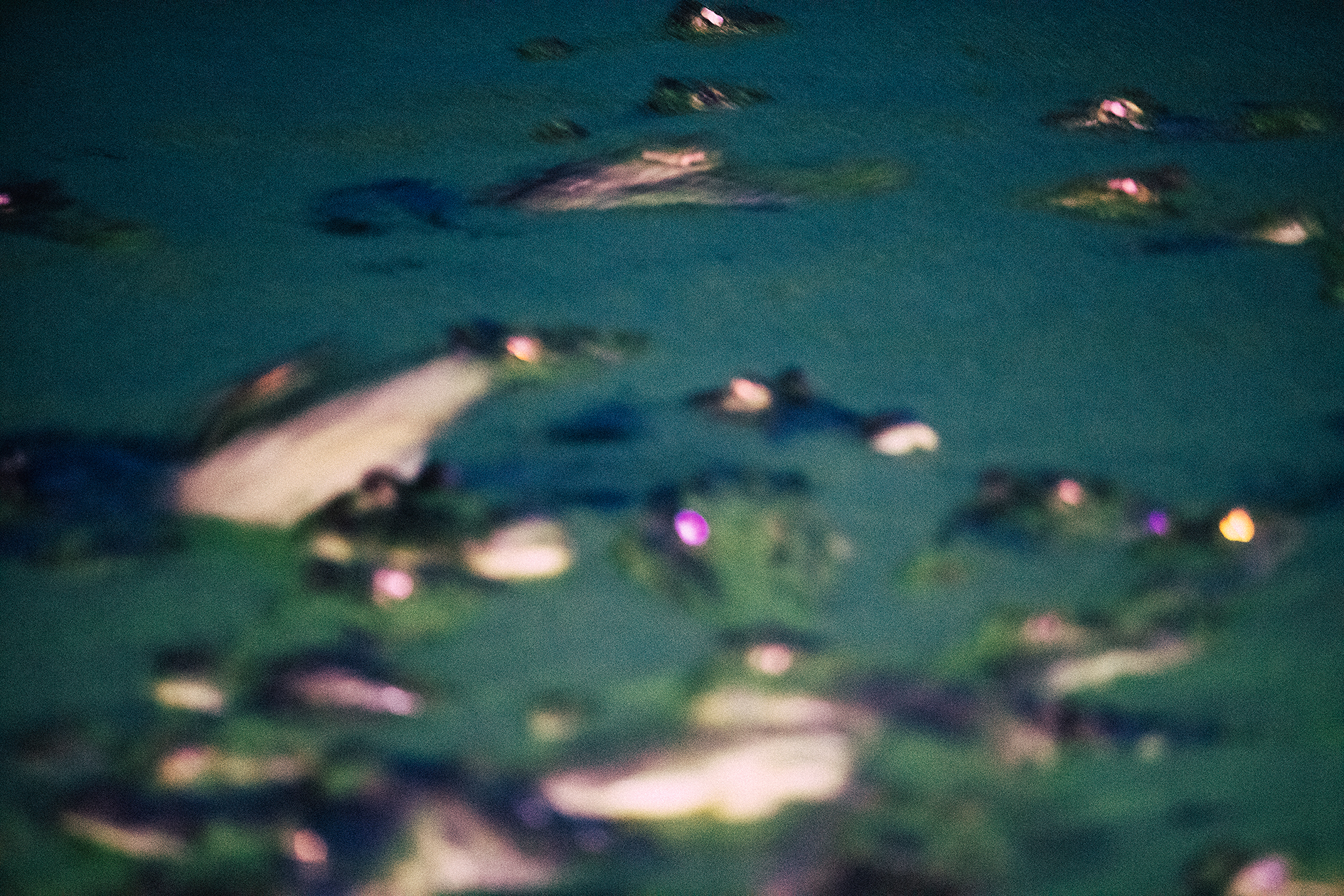 ANNE-CHARLOTTE FINEL | Règnes
In situ
7 October 2023 - 11 November 2023
Galerie Jousse Entreprise is pleased to announce Anne-Charlotte Finel's new solo exhibition Règnes from October 7 to November 11, 2023. The vernissage will take place on Saturday October 7, from 4pm, in the presence of the artist.
Opening onto an underground milky way, Règnes is the second solo exhibition by French artist Anne-Charlotte Finel at Galerie Jousse Entreprise.
Projected onto a suspended screen, the video Sol levitates, revealing the lair of an iridescent cave. These natural hollows come to life through the artist's camera and a flashlight: small fireworks of calcite illuminate the rock, which morphs into a constellation or a bioluminescent lagoon, crossed by the stealth, twitchy flight of bats, the cave-dwelling queens of the premises. In turn, the glittering walls and crevices round out, cracking and darkening, suggesting sensual abysses. In this enclosed space – a shelter – this zone becomes a point of departure and return, a crucible of a ballet of lives that contains, to borrow a line from Rimbaud, "the vast swarming of all embryos."[1] The vault, with its udder-shaped stalactites, becomes the Capitoline Wolf, the mythological mother figure. Filmed in such a way, the cave prevails beyond its discovery – engravings capturing early human's grasp of a horse's gallop or a mammoth's neck make only brief appearances. The subject is the earth – ownerless, undeveloped, host to a multitude of mineral, plant, and animal species. Following this first film is Respiro. Here, a breath winds its way through the material, which inflates and deflates in the form of craters and scales. This beast conjures up medieval visions of fantastic creatures – the final shot features a huge muzzle whose emanating, muffled heartbeat makes us tremble with emotion. Voiski's electronic musical composition for the two videos accentuates the science-fiction register with sounds oscillating between deep space – radiant, expansive – and the crystalline breaths, squeaks, creaks, and sloshes of multiple ecosystems.
In two photographs, conception takes a different path: Veilleuse – eggs in apparent incubation, with marks from a felt-tip pen perceptible on their surface, and Matrice – a silhouette of a worm beginning its molt in a uranium-colored cocoon. Fertilization is no longer natural, but cultivated, governed by an invisible hand that orders, manipulates, and controls life cycles. The spider's threads in the video Toiles reinforce this human omniscience through a kaleidoscopic immersion into a delicate geometric network, a relentless netting that traps the gaze.
Displayed in a long corridor joining the first two rooms to the last more spacious one, the series Avant la nuitprovides a breath of fresh air. Nine photographs printed on glossy paper capture great egrets gathered at sunset in arboreal dormitories. These shots seem to come from a bygone era – that of patient, sustained observation – far from drones, flashes, microscopes, and enclosures. A wind of freedom glides over the majestic white wings – the birds take off from the ground, their supple bodies fully visible in contrast to the blue sky. In this film sequence, there's a vacancy of power, a redeeming release, a sovereign flight.
Gilles Clément's concept of "The Third Landscape" is tangible in the artist's practice; her videos are often set in peripheral locations, neglected sites which are richer in biodiversity in the absence of human decision. They are "space[s] expressing neither power nor submission to power."[2] In the exhibition Règnes, Finel pursues her commitment to the idea of an unsupervised landscape ruled by the laws of nature, via the skin, with its textures and patterns. Within this close proximity and by shattering the subject's contours, she crafts a refuge for a bestiary that moves between a supernatural and dystopian universe. The third room of the exhibition features a series of photographs that accentuate the beauty and uniqueness of living beings via the transfiguration of body into landscape. Halo's core glows with a cluster of silkworms; iridescent water merges with scales in Pétrole; Blue – the largest format – transposes a congregation of alligators onto a colony of water lilies. In addition to varying formats, Finel also uses silk as a printing medium (Figures, Flow). Microcosme is a mise en abyme in this respect: the earthworm's cosmic cocoon printed on the raw material secreted by the domestic silk moth (Bombyx mori).
In Praise of Risk, the philosopher and psychoanalyst Anne Dufourmantelle notes that "in fact, metaphors, nebulous images, and uncertainties describe us best. Being in suspense returns us to the penumbra, to a point of relative blindness, and to a certain manner of holding fast to this point. Holding fast, something else appears, another limit, another shore."[3] By segmenting bodies, removing what is known from our gaze, and leaving the images untouched by any fixed interpretation, Finel creates a new imaginary world around the Unloved. She proposes an era of merged, hybrid kingdoms – which must withstand the acceptance of humans as prey. Through contact with the reptiles featured in her latest creations, Finel has become interested in the writings of Australian ecofeminist Val Plumwood. Plucked from her canoe and carried into the river depths by the jaws of a crocodile, Plumwood survived her attack and emerged from the experience deeply marked by the "scandalous" inaccuracy of her entire thought system: "I now know that an animal that can give its intended prey a misleading impression of its size, can also help them to a less misleading sense of who and what they are."[4] Humans are also a source of food, and our physicality in no way excludes us from the food chain dynamics. According to Plumwood, the banality of our death as prey equalizes and levels out relations between species. She adds, "This crocodile-eye view is the view of an old eye, an appraising and critical eye that potentially judges the quality of human life and finds it wanting. Crocodiles are the voice of the deep past, covering the time span of the rise and extinction of many species."[5]
How, then, can we truly risk cohabitation while preserving spaces that are home to these others? It means abolishing the very idea of hierarchy, which is firmly anchored in the matrix of our humanity, deploying empathy to share limited resources, and carrying in the crux of the soul the deepest convictions that "a forest is an ecosystem. A lichen is an ecosystem. A shoreline… A bark… A mountain… A rock… A cloud."[6]
Clara Darrason
Translation : Terri Morris
[1] Rimbaud, Arthur. "Sun and Flesh." Poem. In Rimbaud: Complete Works, Selected Letters: A Bilingual Edition, edited by Seth Whidden, translated by Wallace Fowlie. Chicago, IL: University of Chicago Press, 2005, p.13.
[2] Clément, Gilles. Manifesto of the Third Landscape, translated by Michele Bee and Raphaël Fèvre. Brussels, Belgium: Trans Europe Halles, p.6.
[3] Dufourmantelle, Anne, and Steven Miller. "In Suspense," in In Praise of Risk. In 1st ed. New York City, NY: Fordham University Press, 2019, p.15.
[4] Plumwood, Val. The Eye of the Crocodile, edited by Lorraine Shannon. Canberra, Australia: ANU Press, 2012, p. 10.
[5] Ibid., p.16.
[6] Clément, Gilles. Manifesto of the Third Landscape, p. 22.
Image : Anne-Charlotte Finel, Blue, 2022-23, digital photograph
Vernissage : 07/10/2023 4:00 pm
Curator : Clara Darrason
Exhibition's artists >
Exhibition's artworks