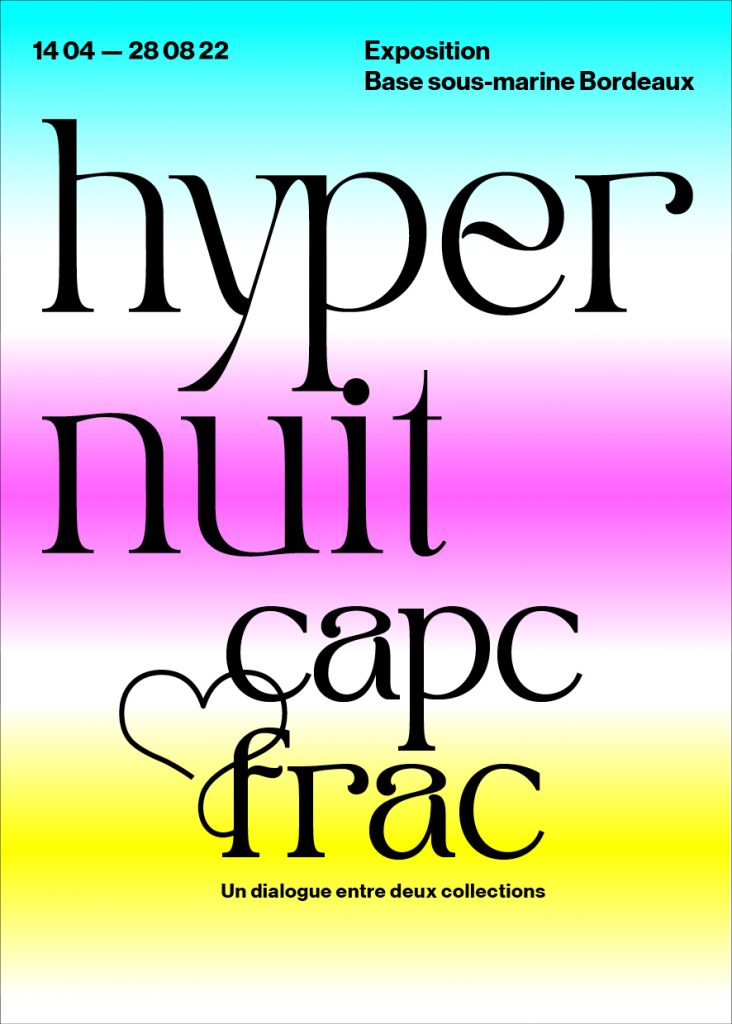 ANNE-CHARLOTTE FINEL | Hypernuit
Hors les murs
14 April 2022 - 28 August 2022
Address : Base sous-marine, Boulevard Alfred Daney, 33300 Bordeaux
A dialogue between the two collections of the Capc Musée d'art contemporain de Bordeaux & the Frac Nouvelle-Aquitaine MÉCA.
Hypernuit is born out of the desire to conceive an exhibition based on the collections of the Capc Musée d'art contemporain and the Frac Nouvelle-Aquitaine MÉCA, rarely brought together in the course of their history. A particular context, the Submarine Base, is invested in this exhibition both as a cinematographic "black box" and as a resonance chamber revealing memories, forgotten or obscured.
Taking note of the recent pandemic and the resulting intimate and collective upheavals, Hypernuit is based on an experience of disruption, a sign of a present crossed by flashes of the past and glimmers of the future, impregnated with anxieties, mysteries and dreams. This notion of disturbance intends to turn the accident into an engine of research and the expression of fleeting and raw truths bursting into the real. Within this journey, the spectator's mind is called to wander, digress, drift, according to his own mental images, undulating and tumultuous.
Most pieces, presented and chosen to respond to this singular context, oscillate between interior and exterior, darkness and luminosity, intimate space and social space, official history and personal stories, reason and intuition. These pieces, with a strong sensitive or sensory charge, play on the effects of light, the relationship to night and to history.
The exhibition Hypernuit unfolds like a horizon line that reminds us of our capacity to go beyond reality when it is not enough. It makes palpable this sentence taken from the work of Marianne Mispelaëre: "Something begins to crack under our eyes".
With  : Anne-Charlotte Finel /Caroline Achaintre / Dennis Adams / Marie Angeletti / John Baldessari / Richard Baquié / Sam Basu / Nina Beier / Julie Béna / Hélène Bertin / Kerstin Brätsch & Debo Eilers / Shirley Bruno / Maurizio Cattelan / Gaëlle Choisne / Pascal Convert / Arnaud Dezoteux / Antoine Dorotte / Richard Fauguet /  Pierre Huyghe / Charlie H. Jeffery / Anne-Marie Jugnet / Özgür Kar / Rainier Lericolais / Mark Lewis / Paul Maheke / Benoît Maire / Angelika Markul / Randa Maroufi / Mario Merz / Vincent Meessen / Amina Menia / Nicolas Milhé / Marianne Mispelaëre / Niamh O'Malley / Cécile Paris / Diego Perrone / Jack Pierson /Naufus Ramirez Figueroa / Chantal Raguet / Yvonne Rainer / Vandy Rattana / Navin Rawanchaikul et Rirkrit Tiravanija / Lili Reynaud Dewar / Sarkis / Samara Scott / Reena Spaulings / Thu-Van Tran / Rosemarie Trockel / Heimo Zobernig
Press release (PDF)
Curator : Claire Jacquet, Sandra Patron with the help of Karen Tanguy and Anne Cadenet
Exhibition's artists >