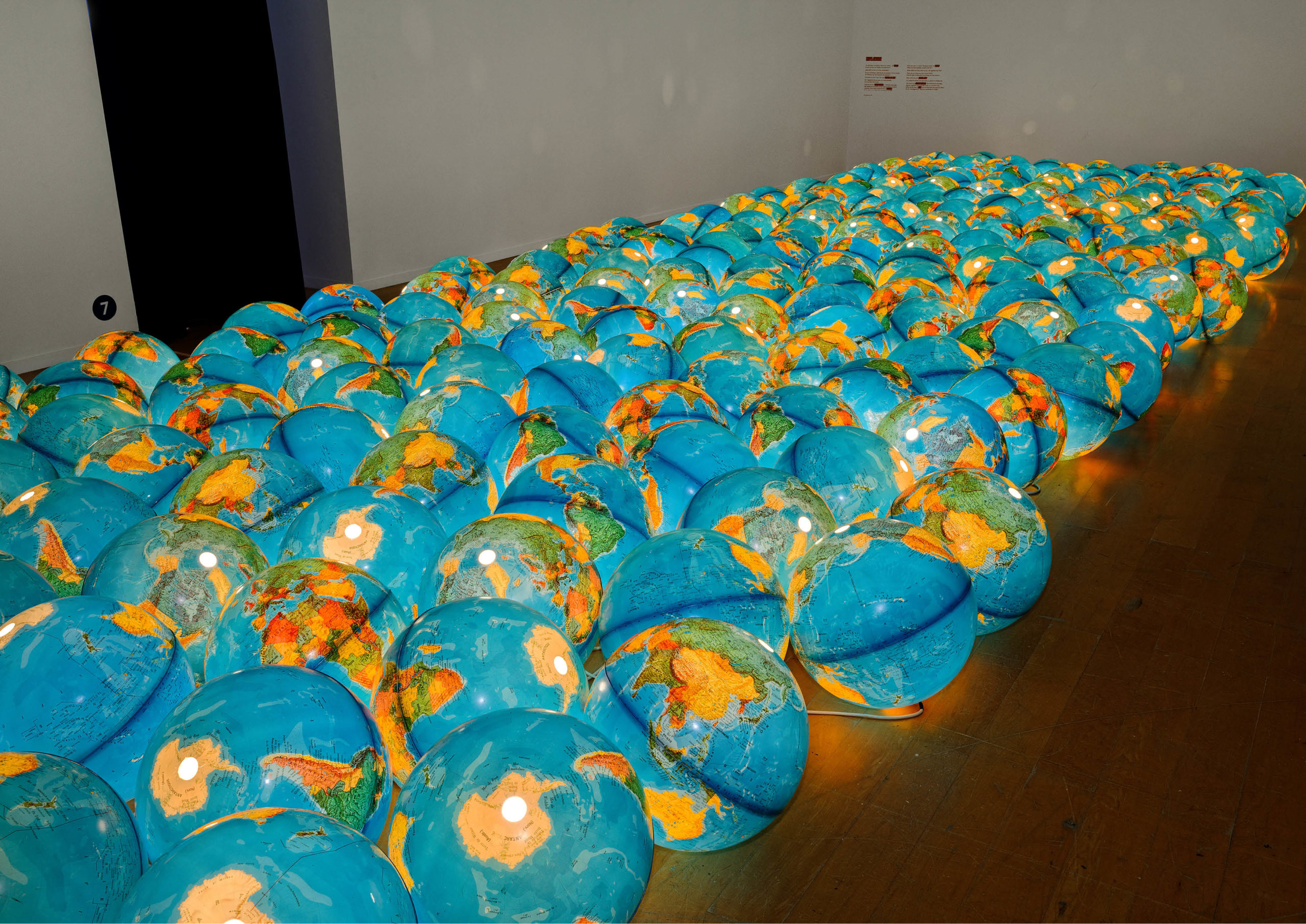 ANGE LECCIA | Faut-il voyager pour être heureux ?
Hors les murs
20 May 2022 - 29 January 2023
Address : Espace Fondation EDF 6 rue Juliette Récamier 75007 Paris
From May 20, 2022 to January 29, 2023, the EDF Group Foundation is presenting "Do you have to travel to be happy?" an exhibition never before seen in France on the theme of travel, illustrated by the works of 32 contemporary French and international artists.
Inviting visitors to question themselves about travel today, the exhibition addresses current issues, such as mobility rethought in the wake of the health crisis, the environmental challenges of preserving ecosystems and climate change, and forced migration and exile. It is also an invitation to pleasure and emotion to discover the world of travel with a different eye. Nearly fifty works – installations, paintings, videos and photographs – evoke these major issues.
The exhibition is the result of a collective curatorial project involving Nathalie Bazoche of the EDF Group Foundation, Alexia Fabre, former director of the MAC VAL, and Rodolphe Christin, a sociologist, and aims to make us think about our conception of travel, which is often identified as an essential ingredient of well-being. The recent measures taken by different governments to fight against Covid-19 have underlined our dependence on movement and revealed how much our desire for mobility can be thwarted.
It is with contemporary art and all its creativity that reality is illuminated. The artists and their works thus shake up the spontaneous enchantment of travel, perceived as a vector of knowledge, dialogue and development, to confront it with the major issues of our time: what is the ecological footprint of travel and its infrastructures? How does tourism transform other places into spaces of consumption? How can we look at populations that migrate out of necessity while others travel for pleasure? And finally, because the dream remains a fundamental dimension of travel, what are the new imaginary worlds for today's and tomorrow's travelers?
Ange Leccia
In the 1980s, Ange Leccia made a name for himself with his Arrangements, installations that feature industrial objects whose offbeat facets evoke paradoxes and poetry.
With this 1991 arrangement, the artist questions the notion of territory by tearing down the most extreme border: the one of our globe. He proposes a vision as surprising as utopian: what if we had a multitude of planet Earth at our disposal? The work questions our relationship to the world, by materializing our illusion of a plan B. But this fantasy of an alternative Earth or the colonization of other planets paradoxically refers back to the uniqueness of our own. In the same way, the sphere evokes an eternal restart, as well as an impossible exile. The globes spread out at our feet and thus illuminated, they seem to be as delicate as glass.
The work of the artist acts here by contrast with our common reality: that of a planet Earth that will always be written in the singular.
Press release (PDF)
Curator : Nathalie Bazoche de la Fondation groupe EDF Rodolphe Christin, sociologue Alexia Fabre avec Julien Blanpied et Florence Cosson, MAC VAL – Musée d'Art Contemporain du Val-de-Marne
Exhibition's artists >